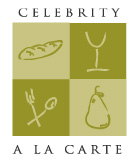 A full service catering and event coordination company with a taste
for creative thinking!


Los Angeles.. (760) 459.5133
Palm Springs
..(760) 325.6000
.
Los Angeles-San Diego-Palm Springs .

Email: info@celebrityalacarte.com

Celebrity A La Carte is a division of Celebrity Events, a full service event
production and design firm. ..To learn more click here...
Copyright © 1985-2016 Celebrity a la Carte - All Rights Reserved